University of Nebraska Press, March 2021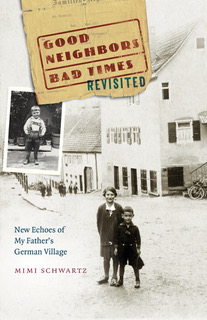 "In [this new edition] Mimi Schwartz brings us back to her father's ancestral village of Rexingen in the German Black Forest to show us that, generations later, it still has much to teach us about decency then and now." —Frank Mecklenburg, director of research and chief archivist of the Leo Baeck Institute.
"Even if you have read Good Neighbors, Bad Times before, you should read it again. In this second edition, Schwartz's scrupulously researched, humane, and multi-voiced account of a German village where Jews and gentiles 'all got along,' according to [her] father, has been profoundly enriched. . . . The meaning of 'neighbor' gains an utterly new dimension." —Alicia Ostriker, poet laureate of New York State
Ten years after Good Neighbors, Bad Times was first published, a fan letter from a man in Australia propels Mimi Schwartz to enlarge the story of her father's German village before, during, and after Nazi times.
Pre-order from:
University of Nebraska Press
Amazon
Barnes & Noble