Mimi travels extensively for readings, speaking engagements, panel discussions, creative writing workshops, and writing retreats. To arrange a reading or author appearance, please contact Mimi Schwartz.
New Publications
"Let's Remarry the 'I' and the 'Eye'"
Creative Nonfiction Blog, Blog #83, Mike Steinberg
"Inter-Review"
Fourth Genre, Spring 2019
"Close Call"
Ninth Letter,  featured essay
"A Half-Dozen Epiphanies"
Solstice Magazine,  Fall 2018 print edition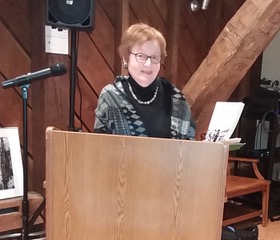 2019 Events
December 5
Creative Nonfiction for Academics — Workshop
Ruth Dill Johnson Crockett Building from 10 a.m.-12 noon (followed by lunch)
Rutgers University
New Brunswick, New Jersey
Pre-registration required. Email: irw@sas.rutgers.edu
2020 Events
January 18
Creative Writing Sampler Workshop — Memoir
Winter Poetry & Prose Getaway
Seaview Hotel
Gallaway, New Jersey (Atlantic City area)
Registration Required
Tutorials available upon request
March 4-7
"When Confession Isn't Enough: Turning Adversity into Art" — Panel Talk
Associated Writing Programs Conference
San Antonio, Texas
March 25-28
College Composition and Communication Conference
Milwaukee, Wisconsin
 March 26: "Weaving Memoir and History" — Main Speaker
Creative Nonfiction Standing Group from 6-7 p.m.
Date TBA: "Writing Creative Nonfiction: Finding the Extraordinary in the Ordinary"
April 16
 "Beyond the I: When Memoir Meets History" — Afternoon Workshop
"When History Is Personal" — Evening Reading
RoeJan Community Library
9091 NY #22
Hillsdale, New York
Contact davidking@taconic.net for more information.
---
Past Events (Selected)
2019
"Beyond the I: When Memoir Meets History"—Talk & Workshop
Rutgers, The State University
New Brunswick, New Jersey
"The Personal Political Essay" —Panel
Associated Writing Programs Conference
Portland, Oregon
"Meet the Authors" Lunch Series
JCC of Central New Jersey
Scotch Plains, New Jersey
Springboard for Writing Memoir
Princeton Adult School
Princeton, New Jersey
Community Without Walls—Talk & Reading
Johnson Education Center
Princeton, New Jersey
Red and Yellow: One-Act PlayFest
Lawrence Library
Lawrenceville, New Jersey
 "Beyond the I: When Memoir Meets History"—Reading & Workshop
Newbury Public Library
Newbury, New Hampshire
Writing Creative Nonfiction Today — OnlineTalk
Thoughtful Book Awards Festival
 "Your Story: From Page to Stage"
Two-part Workshop with Mimi Schwartz & Lew Gantwerk
DOVE Residential Center
Pennington, New Jersey
"In and Out: Stories of Belonging and Exclusion"
OnStage Seniors
Princeton Public Library
Princeton, New Jersey
 "Widows' Words" — Readings & Discussion
Labyrinth Books
Princeton, New Jersey
2018
Creative Writing Sampler—Memoir Workshop
Winter Poetry and Prose Getaway
Absecon, New Jersey
Beyond the I: How Research Enlarges Personal Narrative
AWP Conference
Tampa, Florida
When History Is Personal: A Reading and Conversation
Literati Bookstore 
Ann Arbor, Michigan
Beyond the I: When Memoir Meets History
Writing Workshop
Princeton, New Jersey
History Meets Memoir: Joint Reading with Mindy Lewis
The Writer's Voice
New York, New York
Beyond the I: When Memoir Meets History
The Writer's Voice 
New York, New York
Poetry and Memory: The Personal Meets the Political
Cornelia Street Café
New York, New York
When History Is Personal:  A Reading 
Labyrinth Bookstore
Princeton, New Jersey
Beyond the I: When Memoir Meets History -workshop
New Hampshire Writers' Project
Southern New Hampshire University
Hooksett, New Hampshire
When History Is Personal: A Reading and Conversation 
Abbott Library
Sunapee, New Hampshire
"A Reading, Conversation, and Chance to Write"
Toadstool Bookstore
Peterborough, New Hampshire
Reimagining Memoir
Live Free and Write Workshop
Sunapee, New Hampshire
A Reading and Conversation
Porter Square Books
Cambridge, Massachusetts
When History Is Personal: Visiting Writers Series
Richard Stockton University
Pomona, New Jersey
Luncheon Reading and Q&A
Beth El Synagogue
East Windsor, New Jersey
"Hauntings in Nonfiction" Panel
NonfictioNOW Conference
Phoenix, Arizona
When History Is Personal: Reading, Q&A and Book Signing
California State University
Long Beach, California
A Writing Workshop, "Beyond the I: When History Meets Memoir" 
Oberlin Public Library
Oberlin, Ohio
Joint Reading with the poet, Lynn Powell
Oberlin Public Library 
Oberlin, Ohio
"Meet the Author Luncheon"
Temple Beth Or
Washington Township, New Jersey
When Memoir Meets History: A Reading and Mini-Workshop
Hopewell Library
Pennington, New Jersey
"When History Is Personal" — Talk/Reading
Congregation Beth Chaim
Princeton Junction, New Jersey
2017
The Ethics of Writing True
Nonfiction Now Conference
Rekyjavik, Iceland
When Writers Repeat Themselves: New Disguises or Fresh Approaches
Nonfiction Now  Conference
Rekyjavik, Iceland
When Memoir Moves Onstage
AWP Conference
Washington, DC
I Didn't Ask to Be in Your Story: When Real Names Do and Don't Matter
AWP Conference
Washington, DC
2016
Three Epiphanies of Place: Old Neighborhoods, New Locales
AWP Conference
Los Angeles, CA
If I Die Laughing:  What Humor Brings to Memoir
AWP Conference
Los Angeles, CA
From Memory to Memoir
Winter Writers Getaway
Absecon, NJ
The Art and Craft of Creative Nonfiction
Queensland University
Brisbane, Australia
University Appearances (Selected)
Alma College
American University  (Paris, France)
Brandeis National Women's Club
Columbia College Chicago
Fordham University
Humboldt University (Berlin, Germany)
Oberlin College
Princeton University
Richard Stockton University
Rowan University
University of New Hampshire
University of Pennsylvania
Vermont College
Warren County Community College
Westchester Community College